Tenacity is arguably the hallmark of good planning and development, requiring patience, careful negotiation and the ability to build a resilient case over months, or sometimes, years.
Two recent assignments, for which hgh has been planning adviser, are cases in point: client developments at 45 Hornsey Road in Islington and 279 Rosendale Road in Lambeth.
45 Hornsey Road 
Planning permission granted by unanimous committee consent in Islington on 22nd May 2023 for a new student accommodation scheme, with improved pedestrian access and refurbishment of neighbouring railway arches.
281 student accommodation units, including 35% affordable, next to the Emirates Stadium
Refurbishment of disused railway arches, to complete the area's regeneration
New local open space, with improved high quality public realm and landscaping
Creation of a new, safe and attractive pedestrian route from Holloway Road to Hornsey Road
The result has taken a number of years, including one appeal overturned in the High Court.
Elizabeth Woodall, Associate Director hgh said:
"We're delighted to play a part in the completion of the regeneration 'corridor' envisaged when the area was first designated as an Opportunity Area in the London Plan years ago. It's good to see the last piece of the jigsaw around the Emirates Stadium slot into place."
image of 45 Hornsey Road courtesy of CZWG architects / muf architecture/art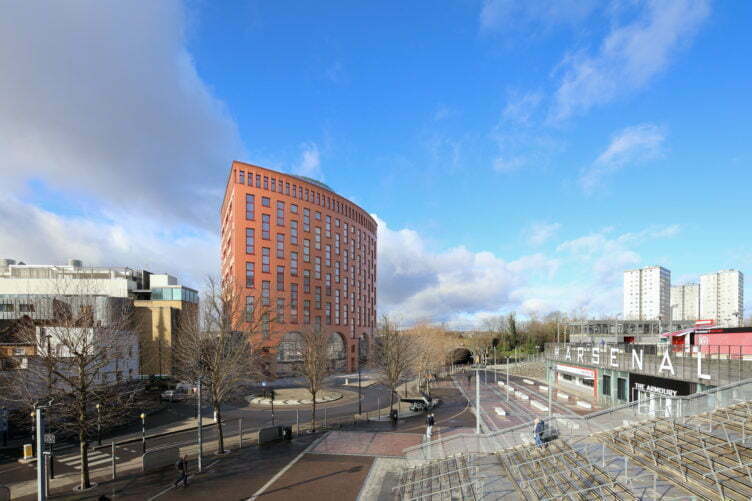 279 Rosendale Road 
Planning permission, gained at Lambeth council's committee meeting on Tuesday 9th May 2023, has taken over 4 years.
Derelict former milk depot in London Borough of Lambeth
Proposal scheme of 23 homes, 5 at cheapest rents and 2 at shared ownership, plus ground floor nursery
Aim to preserve the locally Listed 'arts and crafts' frontage.
For further details, please click here
image of 279 Rosendale Road courtesy of Lipman Properties